DUI Defense Attorney
Located in Corona, California
Driving Under the Influence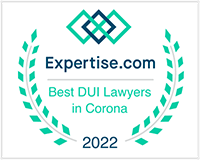 Arrested for DUI? (Alcohol or Controlled Substances)
Our firm believes that EVERYONE deserves a private attorney, personal attention, and a sound legal defense.
In a DUI case, there are 2 (two) types of actions taken against you.
1. The Department of Motor Vehicles (DMV), which is an Administrative matter that includes the suspension of your driver's license and programs you will need to complete to have your driver's license reinstated) and
2. The Court, which is a Criminal matter that includes fines, probation, possible jail) .
What you need to do Immediately!
The Most Important action you need to take, is to call our office immediately after you are released from custody.
Why?
The DMV allows a stay or a delay of the suspension of your driver's license that will occur on the 30th day after the date of your arrest,
If a DMV hearing is requested within 10 days of your arrest, you may continue to drive until the hearing is conducted and the hearing officer makes their decision.
This is especially true, if your DUI is for controlled substances.
Why?
Because our office can have the DMV part of your DUI case be "Set Aside" [a DMV term meaning Dismissed] on legal grounds.
Once the hearing is requested you will retain your driving privilege until after the DMV hearing decision is made, which can be months.
If you have been charged with driving under the influence or DUI in the State of California you may face stiff fines and penalties including license suspension and jail.
You need to seek the advice of an experienced DUI attorney immediately.
Mr. Kovach has the knowledge and experience that is crucial in your defense against DUI charges
This Is How We Help You!
1. Our office will make demand to the DMV's Driver's Safety Office for a hearing and to provide our office with the police report.
The DMV will then mail you a (white) entitled "Temporary License" The license will be valid until you have your hearing, and a decision has been made and mailed to you.
The hearing a are generally scheduled between 60 and 90 days from your arrest date, during which time you can continue to drive with full driving privileges.
Our office advises that you can go directly to your local DMV office add apply for a California ID card, for identification purpose.
2. The Court (a Criminal matter that includes fines, probation, possible jail)
Mr. Kovach will appear with you on the date indicated on your bail receipt or citation for your arraignment date, obtain the documents the District Attorney, enter a plea of not guilty and set your matter for a pretrial date.
At the schedule pretrial date, Mr. Kovach will discuss your matter with the District Attorney and begin to negotiate a favorable disposition.
If further investigation is necessary, another pretrial will be scheduled until the matter is resolved prior to any trial.
The only time your presence is required is at the time of arraignment and the pretrial disposition (Pleas Agreement) is accepted by the Court.
This office will assist you in enrollment in the DUI classes, filing of SR-22 and obtaining a restricted rivers license.
Protect Your Ability to Drive!
Contact us today To learn more about your specific situation call our Laguna Niguel office at (888) 828-2483 or our Corona office at (951) 744-5354 today for a FREE telephone consultation directly with attorney Wolfgang Kovach